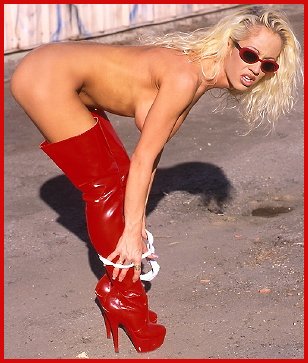 1-888-649-0740

We do *NOT* accept PAYPAL, STORMPAY, CCBILL, PROBILLING, KEEN,
NITEFLIRT, etc. - if anything other than "TAP Communications"
appears on your credit card statement, please contact us
immediately at TAPCOMINC@aol.com. If you can
provide proof of alternate billing you will receive one
month of free unlimited calls.
Thank you.
Available from 9:00am to 4:00am (PST).

Hello all my pretty slave boys. Once I get a hold of you...there is no turning back. Your ass will be mine. I want to own you and control you with all my high maintenance, demanding ways. You will learn to worship me from the tip of my sexy boots to the top of my head. You will get on your knees and take whatever I give you. My pussy grinding against your face or my strap-on dildo buried in your ass. When I snap my fingers...your cock will jump. You will give up all control to me, willingly and eagerly.

During our sessions there will be times when you whimper and whine and other times when you'll be begging uncontrollably. Begging for release. Begging for more. If I want to tease you, then I will tease you. If I want to make you cum, then I will make you cum. You will be my boy toy and my property. If I want you to worship my toned body with your tongue, you will do so expertly. If I want you to dress like a sexy little slut for me, you will. If I decide you need to be punished, you will take the pain without question or hesitation. It should go without saying that you are here for my pleasure...my wishes will become your only desire.

So if you think you have what it takes to serve me, call me now! You know you need it. Mistress Laura is waiting...but not for long.


Specialties:

Strap On Worship
Panty Worship
Foot Fetishes
Leather Fetishes
Sissy Girls
Submissive Boys
Obedient Men
Cum Sluts
Tormenting Pain
Cock and Ball Torture
Female Supremacy
Ball Slapping
Humiliation


My Rates:

20 minute blocks for $2.00 a minute

Regular Calls: $2.50 per minute (10 min. minimum)
International Calls: $3.50 per minute (10 min. minimum)
We accept the following credit cards:
~*Billed as TAP Communications*~
HONOR SYSTEM
If you'd prefer not to have your credit card charged for a call through
this website but you don't want to wait to do a call until your prepayment
has been received, you're invited to use our Honor System. You will need
to have a valid credit card for verification purposes only. However, your
credit card will not be billed unless you fail to mail in a payment to the P.O.
Box address below and it's received within seven (7) days of the call.

~*Money Orders/Cashier's Checks/Cash Only!*~

PERSONAL CHECKS NOT ACCEPTED!

**Payment in the form of cash, money order or cashier's check must be received
within seven (7) days of your call or the credit card used for verification purposes
will be billed for the price of the call plus an additional $15.00 late fee. If you
send a payment using an Express Mail Envelope check the box that requires
*NO SIGNATURE* or the envelope will be returned to you and your credit card
will be charged.**


Mail Prepayments and Honor Payments to:
TAPCOM
P.O. Box 769
Tracy, CA 95378
Attn: Laura


~*Questions about your credit card charges? Call 1-888-359-7303*~


PRIVACY POLICY
We respect your privacy and we do NOT share customer information with anyone (unless it concerns fraud,
in which case we will notify the appropriate authorities and use every remedy available to us by law).
You will never be put on mailing lists or telemarketing lists of any kind.


Copyright 2005-2014 www.BDSMBeauties.com. All rights reserved. Contents of this website may not be
reproduced, in whole or in part, without the prior written consent of www.BDSMBeauties.com.

Contact TAPCOMINC@aol.com with any
administrative questions regarding this website.